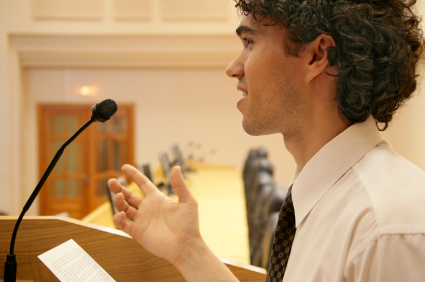 Writing a speech does not need to be a terribly exhausting task: With tips at hand, you will find that this task is simple. You want to write a speech in a way that makes you an effective, clear, and composed speaker in front of other people. Before beginning, gather together information about your audience, and tailor your speech to the needs of your audience. Read on for more tips that can help you capture your audience's attention.
Key Speech Writing Tips
Use easy to understand phrases – You will realize that some phrasing styles are more effective than others – and some phrasing styles are simply easier to understand while you are talking.
Watch for clutter in your speech – You want to consider how your speech patterns, verbal fillers, and stuttering over difficult to pronounce words might affect how clearly your speech and information come across.
Be confident – If your aim is to motivate people to build teamwork and networking skills, be sure that you can do so with a confident attitude and a friendly demeanor.
Respect your audience – It is critical to learn how to make your audience feel that they are being invited to help make positive change, and not that you are talking down to them and disrespecting them.
Practice – Practice your speech as much as possible. Get the glitches out of your speech.
Be Politically Correct: Use Speech Etiquette
Being politically correct is often an important aspect of writing an effective speech – you do not want to alienate your listeners, and you want everyone to feel welcomed as a member of the audience.
Speak clearly, respectfully, and politely to take control of the crowd's attention and not worry about offending your listeners.
Be honest about politics, opinions, and other themes that you have to discuss.
Be sure you give your listeners and their beliefs the respect which they deserve.
Proper Format for Speeches
Speeches vary in content, purpose, and type – this is exactly why it is important to consider your audience when deciding the right format for your speech.
Think about the message of your speech:
Do you want to persuade them to agree with your opinion?
Do you want them to understand the historical importance of an event?
Maybe you just want to welcome everyone, introduce an individual, or set the stage for a particular event.
Be sure to thank your audience for their attention, both before and after your speech.
If you are interested in building an argument, do so carefully. Pick important points and explain them in a respectful, friendly way.
Background information throughout your speech can make your audience feel guided through the discussion and will prevent them from getting lost as you make your argument.
Final Thoughts for a Successful Speech
A positive attitude is a critical element of keeping your audience's attention.
Keep your speech short  – nobody likes to listen to long, boring speeches.
Only discuss a few key points in detail instead of covering a lot of ideas and elements on a more vague level.
Your purpose should be to be comprehensible, to be respectful, and to be courteous to your listeners.
Once all is said and done, you will make an impact on people by sharing your ideas and opinions. Enjoy your opportunity to speak in front of others, and write a speech that will work well for your audience by following these tips.