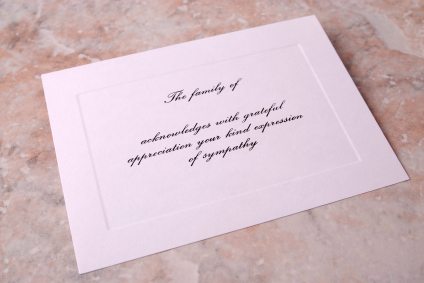 One of the saddest moments in life is the death of someone dear. Because it's so difficult to know the right words to say, knowing some tips for writing meaningful sympathy cards can make a difficult job a little bit easier as you express your support for those who are going through a difficult time.
The death of a close relative is different from the passing of the relative of a friend, a person you may never have met. However, the grief is very real indeed, and choosing just the right card, with just the right words, can make one of the hardest events in life a little bit easier for the bereaved to bear. It's knowing what to say that can be an issue.
When Is it Appropriate to Write a Sympathy Card
Traditionally, these cards are given when you find out that someone close to you has lost a parent, a close friend, or a loved one. This should take place as soon as you find out about their loss, and can be sent via mail, given to the family at a wake or funeral, or handed to them in person at their convenience.
Some people like to deliver a sympathy card with a gift – such as flowers, food, or treats – that will make the person's life easier in this difficult time. When someone is very upset about the loss of someone they love, they often have a difficult time taking care of themselves, so a gift of a cooked meal or a dessert can help them a great deal, especially when they are responsible for having family over during this time of mourning.
Choosing the Right Card
Some people prefer to send sympathy cards that have a long poem or piece of prose written on the front – these definitely come with a more serious tone than other cards. Other people like to send cards with a touch of humor that might brighten the reader's day. It is really up to you – go with what matches your personality and what you think the person receiving the card might like.
Watch out – some of these cards are extremely cliché, which could actually harm your efforts by seeming very impersonal. Some people chose to not send a card, but a letter. With a letter, you can share personal memories of the person that they have lost, or detail your support for them in this difficult time. This allows you to be incredibly personal in your approach to reaching out and helping the other people – and it steers you away from the trite phrases that are on most greeting cards found at drugstores.
Allow your words to be respectful, calm, and expressive as you write to this person. The typical style that is in these cards is often to say, "I'm sorry for the loss of your grandmother / friend / spouse / parent," and then to discuss further your support and your sympathy for them.
Tips on Writing Sympathy Cards
Most people who receive sympathy cards get them at a time in which they are very sad, and getting these cards can make them incredibly happy. Let them know that you are thinking of them, and that you are there for both moral support and support in any other way they need – help around the house, someone to talk to, or help with taking care of the children, for example.
Be Yourself
That might sound clichéd, but this is one of those instances where you should go with your first heartfelt impulses. The words that come from your soul may be the very best ones to soothe the pain of loved ones left behind…. but what if you don't know what to say? Make it simple. Say it very simply, and chance are what you say will be right.
Difficult Deaths
Every death is difficult. Whether the person who dies is an elderly person who dies of natural causes, surrounded by family and friends or very young.
Even the most gracious person can be completely stumped as to what to say. Knowing the person who died doesn't make writing a sympathy note any easier; but, when the departed is someone you didn't know well, it's seems an almost impossible task to strike the right note in a sympathy card.
"I am so very sorry. God bless you in your grief. Please let me know if there is anything I can do" are all good, sincerely felt words that may lend some small degree of comfort to the bereaved family, and that's not a small thing during a time of inconsolable grief.
Personalize Your Thoughts
Store-bought cards with preprinted sentiments are perfectly fine if you feel you aren't up to writing the right thing in a time of grief.
It's always good, though, to personalize the card with more than just your name. You may also want to enclose a small token, such as a mass card or the notice of a donation made in the name of the deceased, in the sympathy card. It will let the family know you are thinking of them, and their loved one, in their time of grief.
Sensitivity Is Key
Death, particularly after a long illness, can take its toll on the family members. It's not just the death they're suffering from; it may be the memory of long and painful days and nights, spent at the loved one's bed side.
Those images haven't gone because the person died. In fact, many people who have suffered from the passing of their loved one may still be in shock and trying to digest all that's happened in a short span of time.
Be aware that not everyone believes in God; it's also possible that the dead person may have believed, but the family members don't.This can be delicate, so it's best to keep things as general as possible, unless you know for sure that prayers on the behalf of the departed would be welcomed by the family.