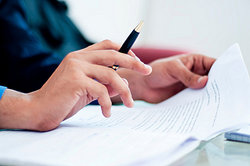 Even if it's tempting to leave your job with a simple "I quit!" a formal resignation letter is the best approach. A resignation letter shows a commitment to professionalism, which is important when your employer may very well be used as a reference for future positions. No one will want to hire an individual who quit their job without any notice and/or in a rude manner.
Basic Points to Remember
Your resignation letter should include the following information:
The date you wrote the letter
The name of the appropriate manager or department
Your position title
Your last day of work, which should be at least two weeks after the date of the letter unless your company has different requirements
If appropriate, you can also include:
Your forwarding address or preferred contact information
What you're willing to do to assist in the transition, such as recommending junior employees for a promotion or helping to review resumes of external candidates
A thank you for the opportunity or expression of gratitude for what you've learned
An invitation to keep in touch for future business opportunities
Including a reason for leaving can be tricky. If you are resigning because you are unhappy in your job and don't get along well your coworkers, it would be best to leave this information out. However, if you are resigning for personal reasons or have accepted a new job that is a promotion, you may choose to include this information.
In most cases, your letter should be printed and signed. However, an email can be appropriate in a less formal office environment. If you opt to send an email resignation, send it to your boss and carbon copy (cc) the Human Resources department.
Examples of Appropriate Resignation Letter Wording
The body of letter should be simple and to the point. Some examples of appropriate wording include:
Please accept this letter as a formal notification that I am leaving [name of company] on [date]. Thank you for the development that this company has provided me. Please let me know if I can be of any assistance during this transition period.
I am writing to inform you that I will be leaving [name of company] on [date]. I want to thank you for the valuable experience that I have gained while working at this company. These skills have taught me to [insert what has been learned].
Effective two weeks from the date of this letter, I will be resigning from [name of company]. Thank you for the opportunities you have offered me in [position title]. I wish you and [company name] success in the future.
I would like to inform you that I am resigning from my position as [position title], effective [date]. Thank you for the opportunities you have provided me during the last [length of time at employer]. I have enjoyed working for [company name] and appreciate the support provided me during my tenure. If I can be of any assistance during this transition, please let me know.
Please accept my resignation from [company] as [position title]. My last day of employment will be [date]. During my time at [company], I have worked with excellent colleagues and had many opportunities to develop my professional skills. I wish all of you the very best.
Although I have enjoyed working as [position title] for [company], a recent family crisis requires that I vacate my position. My final day will be [date]. I have several junior employees in mind who I feel would be strong candidates for a promotion to my position, but I would also be happy to assist with the process of interviewing qualified external replacements. I hope we can stay in touch as business colleagues, and I look forward to working with you again if the opportunity should ever present itself.
I am writing to formally notify you of my resignation from my position as [position title] with [company name]. I have been offered a new role as a [new position] with [new employer's name] and have decided to take their offer. My last day of employment with [company name] will be [date]. I appreciate your support and understanding. In the future, I can be reached at [email] or [cell phone].
Planning for the Future
No matter what industry you're in, a formal resignation letter or email is the most professional way to leave your current position. With a brief yet polite correspondence, you'll preserve the relationships and recommendations that can assist you in further career development.
If you're resigning from your current position without a firm job offer in hand, YourDictionary's selection of sample cover letters and resume tips can help you impress future employers.