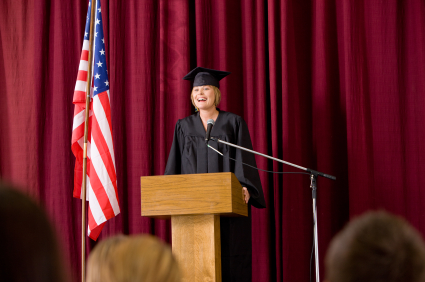 If you are speaking at a graduation in the near future, chances are you are looking for a graduation speech writing outline that will help you write your own speech. Speaking at your graduation is a really amazing opportunity to honor your classmates and say goodbye to them on your special day. However, you want to make sure that you know what you want to say and that you cover a certain variety of topics that will be interesting for your class to listen to on your special day. Read on to learn about what to say in your speech and for an outline that will help you write a personal speech that contains all the right details.
Write a Winning Speech
Make sure that your graduation speech is about something that you would want to listen to – and no, that doesn't necessarily mean stories all about you and your successes. Instead of giving off a vibe that you are more important than your classmates, think of this experience as being able to share an important moment with your peers as a representative of your class.
Write about something that you can speak truthfully and courteously about while peaking the interest of your peers.
Keep your speech short. Don't talk for thirty minutes at graduation – usually everyone is too emotional to remember what was said or what was discussed, but everyone will remember who talked for too long, how hot the sun was (or how the lack of air conditioning made the ceremony miserable), and how unbearable the speeches were. Don't be that person – design a shorter speech that has great content!
Graduation Speech Writing Outline
Below is a sample outline for a graduation speech. Make sure to personalize this speech and to make it your own: feel free to omit some of the categories that have been outlined, and to add others as you see fit.
Some people might suggest that you reorganize these categories for a flow that fits your personal speech. It is all up to you – ask others for help on making your speech perfect for graduation day.
Thank the previous speaker for introducing you.
Introduce yourself with your name
Share a motivational quote with the audience and share how it connects with your class' experiences in school
Share a relevant story that brings the class together and gets them excited about their future
Take time to point out some good advice for the years to come
Encourage your classmates to remember the good times at your school
Finish by recalling the motivational quote from before
Call your fellow students into action:  leave them with an inspiring sentence encouraging them to go out and make a difference
Thank the audience for their time
Brainstorming, Drafting and Proofreading
Using the above outline:
Begin to brainstorm material that you can use in your speech. This should not be a difficult task. In reality, most of what you say has already been said before at graduation ceremonies like this, and your peers have probably heard similar motivational quotes or stories before.
Start creating your first draft. Instead of sounding like a robot repeating the old favorites, add themes and stories that make this outline your own, and write a speech that uses your own personal voice.
Review what you have written. You do not have to say something brilliant or incredible to give a successful graduation speech. Instead, think about keeping the speech short and simple. Make cuts to the speech and try to keep it under ten minutes long.
Following a graduation speech writing outline to organize your ideas at the beginning of the writing process is a good way to organize your ideas and put together some solid content – then, start slowly drafting and editing to make these quotes, stories, and anecdotes in the outline your very own.